Fort Walton Machining, Inc. was formed in 1987 as a special custom manufacturing operation specifically to service Eglin Air Force Base and its prime contractors. It began as a small cell with only two employees, but its mission even then, as it is now, was to provide highly technical, precision machining with zero defects delivered on time to its customers' complete satisfaction. Today, Fort Walton Machining has grown to a company with over 210 employees and a main facility over 65,000 sq ft.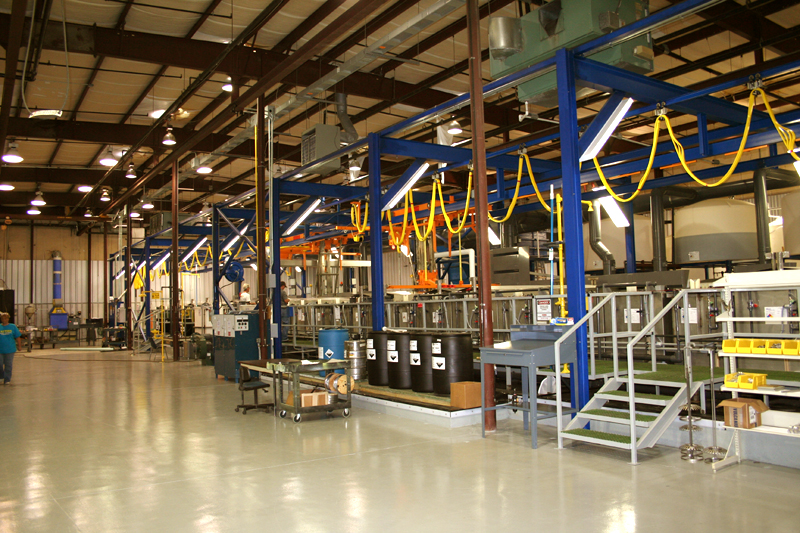 ---
Metal Finishing Division continues our tradition of growth fueled by high quality production. Our new Metal Finishing Division (MFD) is the latest addition to our great company. MFD is a one of a kind, 42,000 sq ft facility that is unparalleled in the Southeast. MFD features a 400 ft conveyor drying paint line, a 40 ft gas curing oven, four paint booths, and a custom Chemical Finishing Line with dual PLC controlled hoists. The hoists for our Chemical Finishing Line communicate to a centralized computer for traceability and batch time runs.
MFD will carry forward FWM's tradition of excellence through incorporation into our Quality Management System AS9100 / ISO 9001 Facility. Customer approvals will also guide our production as they always have. MFD is NADCAP-accredited in Chemical Processing and NonDestructive Testing (NDT). MFD is currently a captive internal support facility. As we continue our growth we will determine our internal support capacity and then begin the process of opening the facility up in a crawl, walk then run mentality to the external industry market.